Closet organizing; Time to call in the pros
You can't be good at everything.
Most people know that about life (most people). And yet many do not know when they are not good at something. So they keep doing it and doing it poorly.
Case in point, my wardrobe. For years I had no direction, rhyme, or reason to what I wore. Now that I'm all grown up and own a corporation (!) I would prefer to look classy instead of just fine. And yet I haven't read a fashion magazine or fashion blog in decades. Fashion has never been a passion of mine. I notice what people are wearing and yet, I have no idea what I should be wearing.
But I still have to procure and wear clothes and accessories.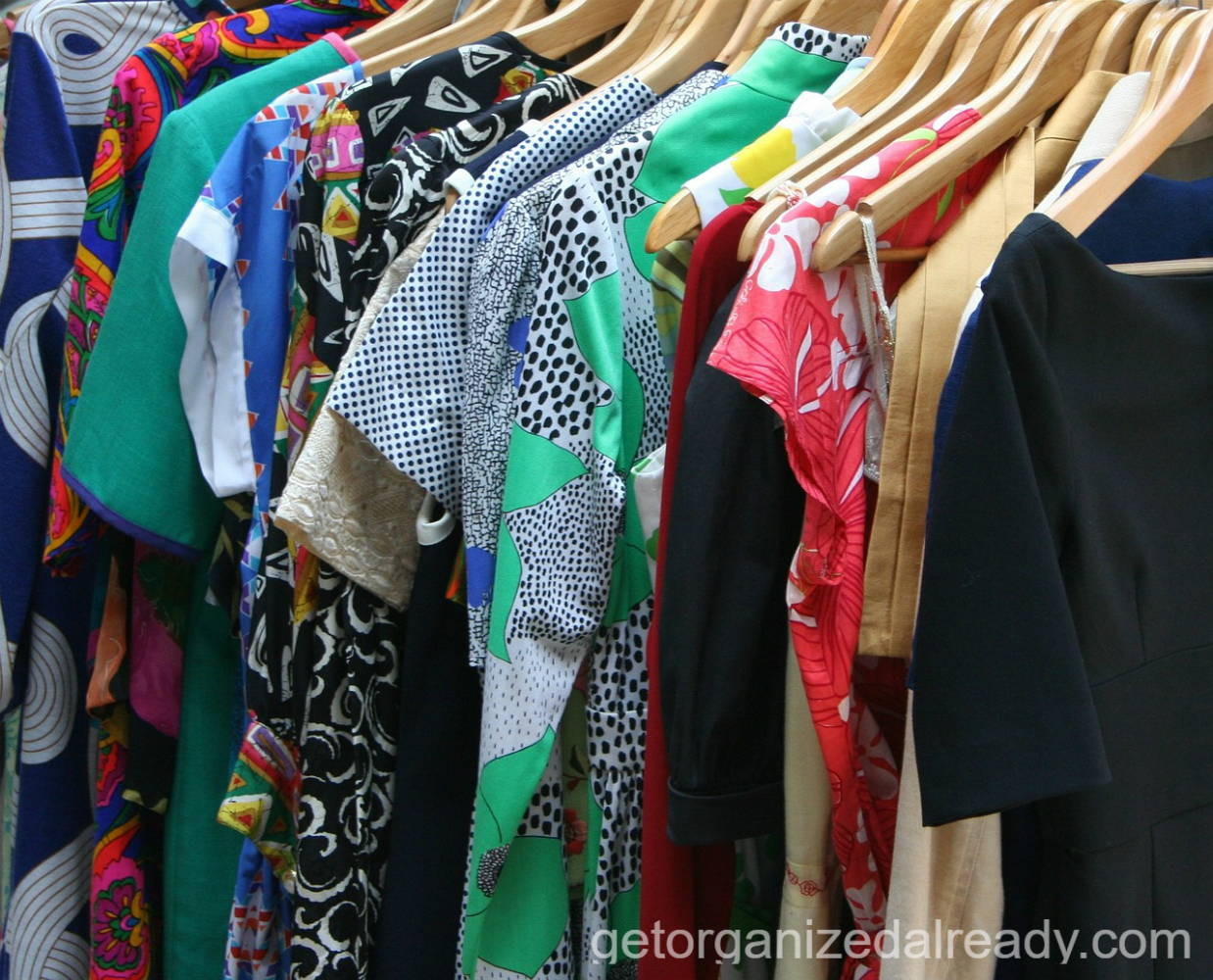 Asking for professional help
Enter my talented sister. She has a degree in fashion design from OTIS school of design. Her fashion knowledge is definitely on a professional level. Walking into the mall with her is like leaving the planet for outer space. On these amazing trips I have nothing to add. I just make sure my seat belt is on.
I only get to go shopping with her about once a year if I'm lucky. But I gladly pay for her fashion knowledge and advice. I listen to it and try on whatever she says to try.
My expertise
Organizing your closet isn't rocket science. And your life will not be saved by following my advice here. But hopefully I can share some closet organizing ideas and your morning routine will be much easier than it is now.
As with every other category, the place to start is with a ruthless purge. Hopefully you've done that in preparation for organizing your closet.
When a closet is stuffed full, you tend to dread putting away the clean laundry Click To Tweet
— fighting with all the hangers and piles. You also end up struggling to find things.
How to purge your closet more objectively
If you haven't thinned out the items in your closet here's how we like to do it with our clients:
Grab everything from the floor of the closet and pile in on your made bed.
Take an armful of hanging jackets or pants down from the rod and put those on the bed to give yourself some wiggle room.
Shop your closet for tops (not sweaters or jackets) you love and would purchase again today. Gather the tops in your hands and arms until you have gone through all of your tops. Your arms should be about to fall off! This technique will keep you from grabbing every "maybe" item and hopefully make you be more selective. You have plenty of tops you love. Don't keep ones you "like" or that "might work if I lose weight" or ones that are too expensive to donate.
Put the tops you love and are keeping onto a separate part of the bed or even in a different room.
Donate all remaining tops in the closet.
Get rid of the broken or warped hangers.
Repeat the shopping process with another category of clothes: skirts, pants; then sweaters and coats; dresses; belts and bags; scarves; workout clothes; whatever else is in the closet.
Organizing your closet
Now for the main event: Closet organizing tips from a pro.
Store categories (not colors) together. If you have certain things you always wear together, hang those beside each other.
Put colors together only if you really like looking at color-coded clothes and are willing to keep up the system. No one is going to know if your closet is color-coded, so don't sweat it.
Only hang one item on each hanger.
If you have a lot of folding clothes, or if you hate hanging things up, you might consider using a hanging sweater holder or hanging shoe holder. This will turn your hanging space into something more like drawer space.
Use hooks on the walls if you have room. Small hooks are great for necklaces and belts. Larger hooks (think coat rack) are a perfect place for hanging clirty clothes, a robe, or everyday jackets.
Shoe racks are the best solution for storing a lot of shoes. Fancy shoe storage boxes are a pain to maintain. Easy access to their shoes is preferable for most people.
If you are really tall, store your shoes on the shelf above your closet rod.
Put out-of season and seldom worn clothing at the back of the closet; and things you love at the front.
Put a dresser in your closet if that makes sense for you.
Take the door off your closet if you hate the door. (I hate doors myself.)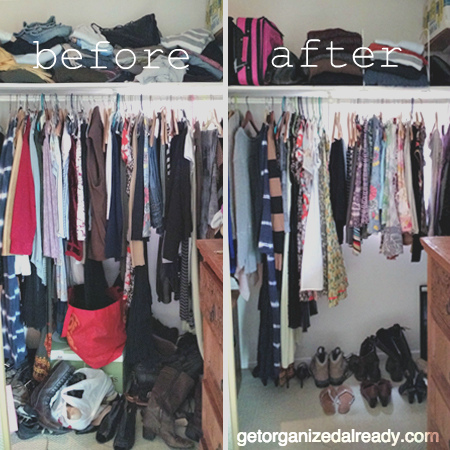 Scarves, ties, purses
We usually organize scarves, ties, and purses differently in each closet. There's no right answer. It depends on your space, the number of items, and your patience with folding the scarves, rolling the ties, or putting purses back into protective bags.
The easiest solutions are: a wall-mounted tie rack for ties; hanging scarves on hooks; putting purses in a deep drawer to protect them.
Extra ideas
Hang fun, family photos inside drawers and inside the closet.
Keep a dirty clothes hamper in the closet (if there's room) or wherever you get undressed.
Use wall-mounted, battery-operated lights for extra lighting in the back or corner of your closet.
Here's another post about organizing your family's laundry.
And here's a video we made about taming the inevitable pile of clothes in your bedroom — on the floor, in a chair.
A word about matching hangers in the closet. I'm an organizing outlier on this topic. I don't have matching hangers in my closet because I think different types of hangers work better for different types of clothes.
Just because you have clothes in a closet doesn't mean you are getting the most out of your closet experience. So thank you for reading these professional closet organizing ideas. I hope they are helpful! If you have some great ideas yourself, please share them in the comments.
Sincerely,
Nonnahs