How to Organize Your RV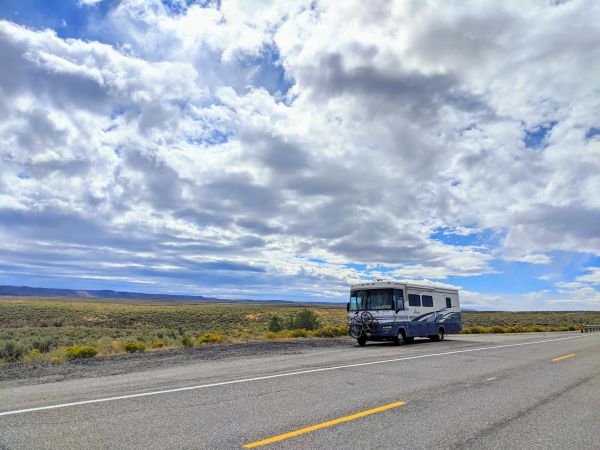 Have you ever tried to downsize your home? It is an overwhelming task – so hard to know where to start! I experienced this overwhelm firsthand when my husband and I decided to live in an RV indefinitely during that first summer of the pandemic. We had never spent time in an RV before and had no idea what to bring.
3 months (!) into the trip I recorded a video and wrote this post for people who are transitioning to live in an RV for the first time and for an extended period of time. But the process can be used for any major downsize. Scroll down to watch the video.
From October 2020
Because we were so tired of sheltering in place at our house and had no obligations there, my family of 4 has moved into a motorhome for a months-long adventure! I packed up everything we needed to live into less than 300 square feet of space. Doesn't that sound impressive?!
I used downsizing tricks and techniques from my work as an organizer to get us ready to go in less than one week.
In this post I will cover:
What to bring
What NOT to bring
I'll explain how I packed because it feels overwhelming to be staring at an empty RV.
What to expect at campgrounds and RV parks.
"How do I do laundry?" and other newbie questions.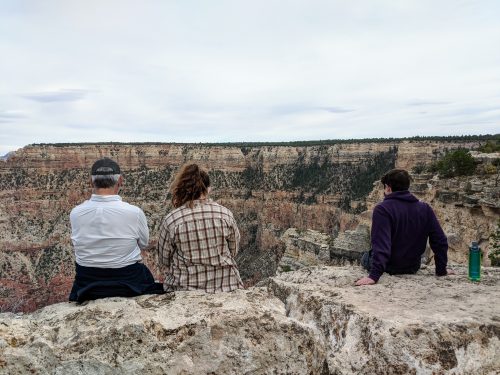 I've always been an organized person (spoiler alert: I'm a professional organizer!) And prefer living with only what I need. So in those 2 specific ways I've been preparing to live in an RV my whole life!
I do not love roughing it. But, the allure of leaving the city during this coronavirus madness was enough to convince me to try this very American form of camping and exploring. We have seen so many awesome places on our trip so far, grown closer together, and my teenagers have learned some valuable life skills they will never forget. LOL! sarcasm
You don't have to be super organized or great at fixing things to live in an RV. BUT! Those 2 qualifications do come in really, really handy.
What to Bring
Must Have General Items
Earthquake putty – for wall decorations and holding things in place on countertops or the dash. Everyday you drive there will be (the equivalent of) an earthquake in an RV.
Office supplies – tape, batteries, scissors, a few envelopes, checkbooks from all accounts, stamps; paper for school work or writing actual letters; pens, pencil, sharpie; post-it notes.
Offline entertainment. – books and games are nice, but with teeanagers we also brought an x box. We've picked up DVDs at thrift stores to watch on the x box when there's no wifi at the campground. Same with books. Thrift stores around the country have been a great source of household supplies for us because we don't want anything new or fancy and we don't have an address to have things shipped from the internet.
Quarters, all the quarters! – for laundry and some showers.
Febreeze – My buddy, Lisa, turned me on to Febreeze a couple of months into our trip. I had never tried it because I hate the fake smell of air freshener. But Febreeze is no ordinary air freshener, friends. It's magic! Google the history of Febreeze for proof.
At least 2 flashlights
Wall clock – because hopefully you will visit many beautiful, remote places with no cell service.
Games to play outside or when stuck inside -scrabble, corn hole, frisbee and a kite. Whatever you are into.
Medium to large containers to keep categories separated. We were trying to be as frugal as possible, so I used containers from my house like shoe boxes, amazon boxes, storage baskets, etc.I didn't buy any new containers for this trip.
Good lighter – for fires and the stove.
Cigarette lighter adapters for electronics when there's no electric hook-up. (Only in older RVs.)
Headphones for everyone.
Road atlas or maps for when you're offline.
Do you notice a trend about being offline and out of range? Most of the beautiful parts of America have some service. But many corners and valleys do not. This is alarming to humans under the age of twenty-five. Be prepared.
Must Have Kitchen Items
The first area of the RV I stocked was the kitchen. I started by going through my home kitchen and pulling everything essential. Not extra, essential. For example we have only 2 knives, 2 pans, and 1 pot.
I like our small trash can under the sink because I don't want a flimsy plastic bag hanging on a handle when we are going over bumps. No ma'am. We do use a cloth hanging bag as our recycle bin for cans, though.
Dish soap
Dish drying rack. You will be washing dishes by hand like you did as a child.
Hand held broom and dustpan because the floor of an RV is the grittiest, dirtiest place you'll ever walk.
Water bottles for everyone
Nothing glass or ceramic except a pyrex casserole dish
Refrigerator Madness
Bring plastic fridge containers or tupperware to hold a bunch of little items, like a deli drawer. Our RV fridge had no deli drawer.
Use a tall box for condiments on the bottom shelf.
Bring an ice tray to make your own ice — like savages from the 1980s!
Coffee – a kettle, and an aero press or french press. Something small.
Dutch oven stored in the oven
Cutting board
One good knife and a serrated steak knife
We store our cutlery upright because there are no drawers. We bought extra cutlery at goodwill when some went missing.
We buy lots of snacks at every grocery stop. There are things about living in a moving vehicle that are really uncomfortable, so we spoil ourselves with fun groceries. Let the pantry overflow into the bedroom, the living room, wherever.
But! Don't buy anything in bulk. Not toilet paper, not peanut butter. Nothing! Space is too precious. (Watch the video to see how our pantry reached into many cabinets and corners.)
Clothing
The main thing we need are the rights kinds of shoes. We don't need many clothes because there's no room for a big pile of dirty clothes. You'll do laundry 2-3x a week. Most campgrounds have a laundry room.
Slippers
Shower shoes
Hiking shoes
Clothes line
Favorite basic clothing and end-of-their-lifespan clothes –things that are frayed or stained. Then once they are really done, just throw them away!
We left not knowing how long we'd be gone. It's been 3 months so far. We've had one snowfall and a couple of 100 degree days. Here's a photo of all the clothes I packed from home for myself. Because of covid we have not eaten out at all. So I brought one dress and haven't worn it yet.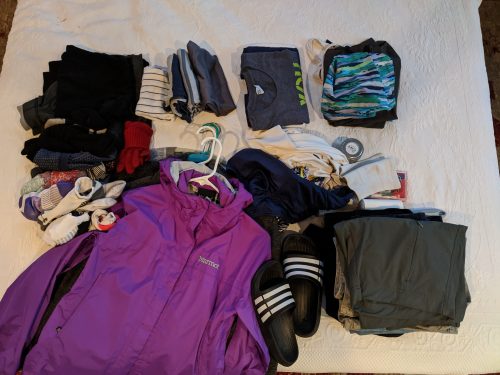 Bathroom
Tiny floor mat
One soap, toothpaste, shampoo, etc. for everyone to share. We generally take showers in the campground showers. But use the RV shower about once a week when we are somewhere remote without a public shower.
Towels. My trick is to share 1 towel (2 MAX) and wash it everyday or every other day. There's nowhere to hang multiple towels to dry.
Travel hair dryer because when it's freezing you don't want wet hair at night.
Laundry soap
Cleaning products. I only brought 2: an all-purpose spray, and a bleach spray for the toilet. 2 rags and a dish scrubber.


Bougie Things I Brought and Love

Small humidifier
Wireless bluetooth speaker
Dishwashing gloves
Foam mattress toppers. Our queen sized topper, sheets and duvet fit onto the "RV sized queen" mattress with a little bit of the topper hanging over. Worth it! And I bought skinny 2" toppers for the kids' beds which I trimmed to fit the weird sized RV mattresses with scissors. Those mattress toppers make a BIG difference!
Items Stored in Outside Compartments
Exercise equipment
Alternate transportation – we used bikes
2nd hose, sprayer, and nozzle for cleaning muddy stuff and for washing out the poop tube. (Character building!)
Extender pole and car-wash brush. The windshield gets crazy dirty so fast.
Dish tub. For gross big dishes (a pot of chili) or other things you don't want to wash in your kitchen sink.
Camp chairs and table cloth with clips for nasty public tables.
Don't Bring These Items
Here are a few things we brought which were a mistake:
A folding table. Every camp site comes with a picnic table.
Most small electronics are a huge waste of space. For example we use our Instant pot all the time at home to make rice and lots of meals. But you can use a regular pot or dutch oven for all of those things and save space. Ditto our bullet blender. We haven't used it at all even though we did at home. We don't have any frozen fruit for smoothies because the freezer is TINY.
Don't be tempted to overpack. Cramming things into cabinets and spaces will only make everyone frustrated. It's easier to find things when the things have room to breathe a little. I packed by going through the house and thinking "What do we use every week? What is essential? I put those items into a laundry basket then and found homes for everything in the RV. You cannot store things on the tables or counters or sitting on the couch. They will crash and fall and, while it's pretty funny sometimes, after about ten times it's not funny.
Campground Secrets
When you see the sign "Campground Full" it's not always true. Drive into the camp and ask or look around if no one is on duty. If there are no "hookup" spots (which means no water or electricity), ask if they have a dry spot to boondock (park without hookups).
90% of campgrounds have laundry and public showers.
Check about a campground's WiFi before you arrive. Check cell reception on online reviews or ask the host on the phone. Bring a signal extender if you can. Getting on multiple zoom calls isn't going to happen! Don't plan trips to remote places on days you need to stay connected to your work or school.
If you're going to be offline, plan your next trip before you get offline. All national parks are offline. 
Download music playlists, podcasts, books and shows.
Make sure all lights are LED. They are cheap to get on Amazon.
Here's the video for a visual idea of what our rig looked like. It was a 2003 Winnebago Adventurer and had been reupholstered in smurf blue nagahide! Lucky us! We nicknamed her "Taco Smurf." What's glaringly absent in this video are the 3 other large people and large dog who are usually all bumping into one another! Keep that in mind, friend.
To read my personal, play by play account of our RV adventure, check out my stories here: Notes From Nonni 
Tell me about your RV adventures! How did you organize the spices? Where did you store the blankets?
Happy travels!
-Nonnahs
"Notes from Nonni: a personal newsletter of stories" Nonnahs writes about things other than organizing. You can subscribe to receive her fun emails. Click here to check it out!