Imperfect (and sneaky) ideas for Christmas decorating on a budget
Ever since I saw the movie "Elf" I've been wanting to make a million paper chains to decorate the house like Buddy did (haven't you?). And every year I don't get around to it. The holidays are like that: plans of perfection and the desire for dreaminess; lots of hopes and visions of a movie-worthy season. Then in reality I get stuck in traffic for 40 minutes on December 23rd because I ran out of pretty wrapping paper.
D'oh!
Good enough is better than therapy
Looking back on that trip to the store for the right wrapping paper I can say to myself,
Time is money, lady! And who cares how the presents look anyway?
Sometimes it's better to reuse an old newspaper for wrapping gifts than go crazy making the presents impressive. And it is always better to save time, period.
Speaking of saving time and letting go of perfection, check out my ideas for easy Christmas decorating on a budget.
Recycled paper snow chains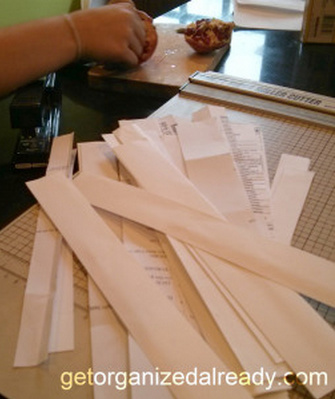 Hanging up white paper links is a really fast way to bring some winter cheer into the house. The trick here is to do a little bit at a time. (aka avoiding overwhelm)
1. Start saving any white paper you'd normally recycle. Use homework papers from school, old grocery lists, packing slips from all of the Amazon orders you keep getting in the mail. Any white paper will work, even if it has been folded. Less than perfect is so much better than nothing!
2. Every couple of days take 5 minutes and cut the papers into strips. If you have a paper cutter, bust that baby out!
3. Staple the strips together (a la grade school art class) and hang up whatever amount you have for the day. Keep the chains concentrated in one room to increase the effect. By the time Christmas is here, your room will look a lot better than you ever thought it would with such a small time investment.
Holiday decor vs. clutter
The other day a lady on the radio said,
I hesitate to decorate my house because it feels like I'm just adding a bunch of clutter to an already crowded room.
pro tip: For every holiday decoration you put out, store an item of similar size.
You've heard the one-in-one-out rule. Put this concept to work in December to temporarily reduce the items you keep on display.
To make space for other decorations, take a look around the room. If you have a lot of family photos in frames, or have some other collection on display year-round (maybe books), consider putting them away for the month. Put holiday decor in its place and use the holiday storage box to hold the photos (or other collection) while the decorations are displayed. Removing a collection will reduce the cluttered feeling and when you bring it back out after the holidays, you'll appreciate the items even more.
This can work for the Christmas tree, too. To make space for the tree, take something out of the room — maybe a chair or ottoman — that takes up about the same amount of space as your tree.
Finally, if you live near Pasadena and you'd like some extra elfin magic in your home this month, call me. I've got a workshop full of elves who can help you wrap, decorate, de-clutter and organize. Delicious!
Happy Holidays! from Nonnahs