Professional organizer says, if you have kids do this first!
Do you ever look at your home full of clutter and feel overwhelmed? Sometimes even one room can seem like too much to think about. Do you wonder how to get started?
After ten years of being a professional organizer I have found a useful shortcut to getting started. It's not magic, but it helps by tricking your brain a little bit. Instead of thinking about every single item in a room or on a surface, pick one, non-emotional category and only focus on that category of stuff.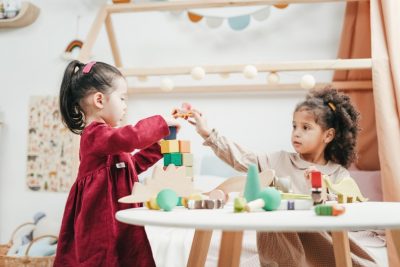 If you have kids, start here
Every house with children has too many toys in it. Most American children have 20,000 times more toys than they can ever play with. Toys are cheap and plastic and they break if you look at them sideways. Most toys and kid-gadgets are superfluous anyway! Kids can play with things you already have. You know this. You've seen a small child play with a box and not the toy it once held. Keep this in mind as you look around to declutter toys.
Outside toys
For a big bang, start in your yard. Get rid of the sun-faded tricycles and slides that your kids have outgrown. Yards can act as a holding ground for toys your family is done using. If they've been sitting outside for a year or more, they are thrashed.
If you have some Little Tikes playhouse or sandbox that is still intact, you could list it on Facebook marketplace or some other online swap group for free.
Don't try to sell worn out kids' stuff. Think about it, if someone is looking for used kids' equipment these days, they really need it. Be generous and give it away. Plus, if you aren't charging money, you don't have to clean it up as much. Just get it to the front porch or front yard for someone to come take it out of your life. Ooo! Feels good!
Where toys go to die
In our house, once a toy leaves the house to live outside or in the garage, that is a signal that its usefulness and value has decreased.
Move on to the garage and look for things your kids have outgrown or broken. Take used sports equipment that still works to "Play it again sports" or list it for free/very cheap on Facebook marketplace. The goal is to get rid of things, not to agonize over lost investments or try to wheel and deal with strangers (unless you really love wheeling and dealing.)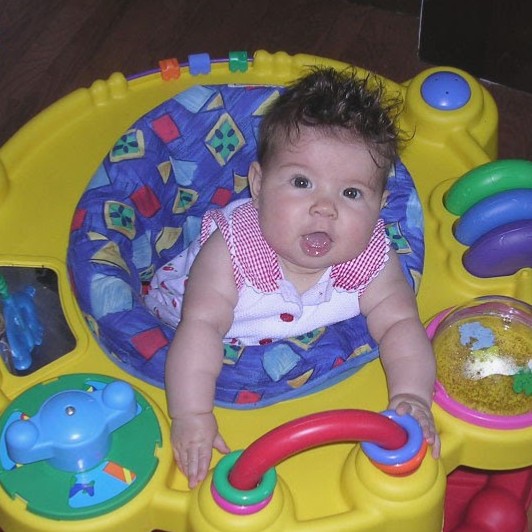 Moving inside
After you have decluttered your yard of old kids' stuff (of course it's okay to start inside if you'd rather,) work your way around the living areas of your house. Save the kids' rooms or playrooms for later.
Use objective eyes to find toys, games, and supplies your kids don't use anymore. Use your camera to get an objective view if you're having trouble or feeling sentimental. Here's an article about gaining objectivity toward clutter in your own home.
Letting go of baby and toddler supplies will make a huge difference in the open floor and storage space in your house if you have a very young child. They grow out of things so quickly! And those baby holders and bouncers take up a ton of room.
What if I plan to have another baby?
Be really honest with yourself.
Will you have another baby before you have to pull the walker-thingy out to get to something else and cause an avalanche which makes you swear out loud 10 times? If you are storing bulky baby gear in front of other things you'll actually use and therefore need to access multiple times before that next positive pregnancy test, I'd say, "You don't actually have room to store it."
Yes, you may have another baby someday. But I bet about ten people near you are pregnant RIGHT NOW. Maybe they could use your baby gear until you need it again.
Do you have room to store this stuff? If you do, only store the good stuff, and the things that aren't super bulky.
Try a sharing economy. Sell your used gear that's in great shape online and buy it back again used from someone else. Or trade.
I've been following a company on instagram called Bundl which rents out baby gear. Maybe that will work for your next baby. They seem really awesome and I'm sad they weren't around when I had babies.
Kitchen stuff
Quickly go through your kitchen counters, drawers, and cabinets just looking for things your children have outgrown. Keep one or two plates or sippy cups for visiting guests if you must. But store them up high or in another place, not where your everyday kitchen stuff is.
If you are moving quickly, try to stick with decluttering kid-things. Of course you can organize your entire kitchen if you want to. But that isn't the plan for this method which will help you feel less overwhelmed.
Bedrooms and playroom
When it comes to cleaning your kids' rooms or a playroom, you may get sidetracked by memories and even a little emotional. The toys and clothes are so cute! And you miss your baby. That is normal and also why I recommend doing this larger project after you've done the rest of the house.
Here's a video I did in the Clutter Challenge on a quick way to declutter your child's room by starting in the closets and under the beds.
Time for a big-kid room!
If your child is 8 or 13 or 15/16, they are probably DYING for a room upgrade. Removing the kiddy stuff will go a long way toward that goal without costing you a penny.
If your children are still really young, you'll have to declutter like this once a year or more to clear space. Kids love to have room to play. Also more toys does not equal more fun. More toys equals more to clean up. And no kid (or parent) wants that!
Keeping the treasures
When you are keeping toys and clothing for sentimental reasons, use containers. Find containers that work for your storage area and only keep what fits in those containers.
Here are some questions to help you decide how much memorabilia you'd like to keep for yourself.
Think about what you treasure from your own childhood. How often do you revisit that stuff? How much did your parents keep? Are you mad at them for throwing it all out? Did they keep too much so now it's overwhelming for you?
All I have from my early childhood is my blanket and the Holly Hobbie tea set I loved. I also have journals and things from when I started collecting things myself in jr high and high school. My mom has a box of my childhood things for herself at her house.
What memorabilia do you have from childhood?
When your babies move out, how much do you think they'll take with them?
Spoiler alert: NOT MUCH!
So keep what makes YOU happy and what you (truly) have room to store or display.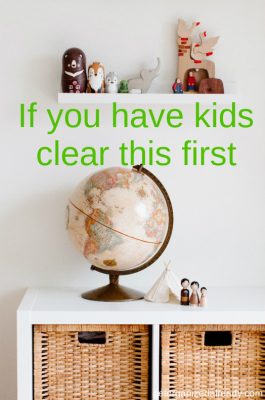 One category. Big results
Focusing on one category of things –kid stuff– can take away a lot of overwhelm. It may feel like you aren't doing a good enough job. But if you get rid of all the outgrown kid-clutter around your home, I promise you will see and feel a big difference.
Let me know if you try this one-category trick.
I appreciate your time reading this.
Sincerely,
Nonnahs