Green Organizing made easy with reuse, recycle and sharing websites
We all do what we can to be more eco-friendly. Whether it's using our our own mug at the local coffee shop, bringing canvas bags to the grocery store or making a conscious effort to only buy local foods. Unfortunately, the earth-conscious option doesn't always seem to be the most affordable. Take heart! We've found a few cool resources that help you trade, borrow, and share goods, which can lessen your ecological footprint AND your monthly spending. Green organizing is smart organizing!
Free Fruit

Neighborhood Fruit helps you find and share fruit locally: both backyard bounty and abundance on public lands. Currently, there are over 10,000 registered trees nationwide and more get added everyday. I'm adding my nectarine tree because when it's producing in late July, there is no way for me to keep up with the bounty. I might as well share it!
Cities resplendent with edibles are better places to live, and sharing with neighbors is a great way to get there. Join them in creating a future where the food we eat is truly fresh, seasonal and local.
Gardening Space
One of the biggest barriers to growing food in the city is access to land – despite the fact that many yards, lawns, and backyards have plenty of room to spare. Sharing Backyards links people with unused yard space with those looking for a place to grow food. Talk about green organizing!
Sharing Backyards mission:
Boost your land available for urban agriculture
Lower waiting lists for community garden plots
Decrease the amount of food needing to be shipped across the country
Help people lower their food costs
Increase your city's vibrancy and resiliency to change
Here is NELA as of 4/21/15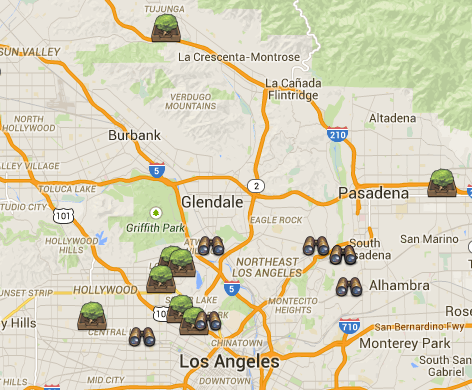 Community
rBlock is a private, location-based communication network for residents. Its mission is to enable greater reach for the communications you send and greater relevance for the ones you receive.
Includes:
crime reports, local services, ride shares, etc
based on your city block
connect with neighbors
Note: Only active in SF suburbs (as of Feb 2015)
Clothing
SwapStyle is the worlds longest standing, FREE, online, fashion-swap marketplace. Women from all around the world use SwapStyle to swap clothes online and save thousands of $$$ in the process. You can also swap, buy and sell vintage, handmade and second hand designer fashion. There is something for everyone here! This concept is self-explanatory and the video below is pretty superfluous. But, if you've had some wine and are just cruising the internet aimlessly, go ahead and watch it.
Movies
 Swap A DVD helps movie lovers Swap, Trade & Exchange DVDs.
It's easy. List movies you've already watched.
Once a DVD is requested, mail it to the club member.
In return, you may choose from 249,183 available Movies!
Books
Don't let the name fool you. With Paperback Swap you can trade hardbacks, audio books, textbooks and paperbacks all online. Works the same as Swap A DVD:
List books you'd like to swap with other club members.
Once a book is requested, mail it to the club member.
In return, you may choose from 4,146,537 available books!
Books you request are yours to keep, or swap again!
What share sites are you using?