Organizing Sarah's kitchen: Before and After
When I first came over to help Sarah organize in her home she was anxious about it. She didn't know
what to expect hiring a professional organizer
. She told me that right before I arrived she called her husband and asked him, "Where are we even going to put anything? And he reminded me, that's why we hired her."
Since that first session, we've worked together organizing her bedrooms and the bathroom. Today we're going to do the kitchen.
Scroll down to watch the video!
As we started I asked her, "What don't you like in the kitchen?"
I don't like anything in the cabinets. When you open them up it's a mess. Especially the cabinet with pots and pans. I don't like to look at it which causes me not to want to cook.
"Do you cook very much?"
I used to but not anymore since my son was born. Also I don't like it in here! I don't know where to find stuff!
Organizing goal: Make room to cook
Our goal for the kitchen is to obviously organize things to make them more accessible. And also to clear the counter space for food prep; and also to clear some cabinet space for ingredients. Right now the cabinets are full but they don't have any food in them, just lots of glasses and coffee supplies.
(I've seen lots of kitchens like this. The cabinets are full, but there are no basic cooking supplies, or basic ingredients to cook!)
Is your kitchen is suffering from this problem? Here are some ideas to make room for cooking.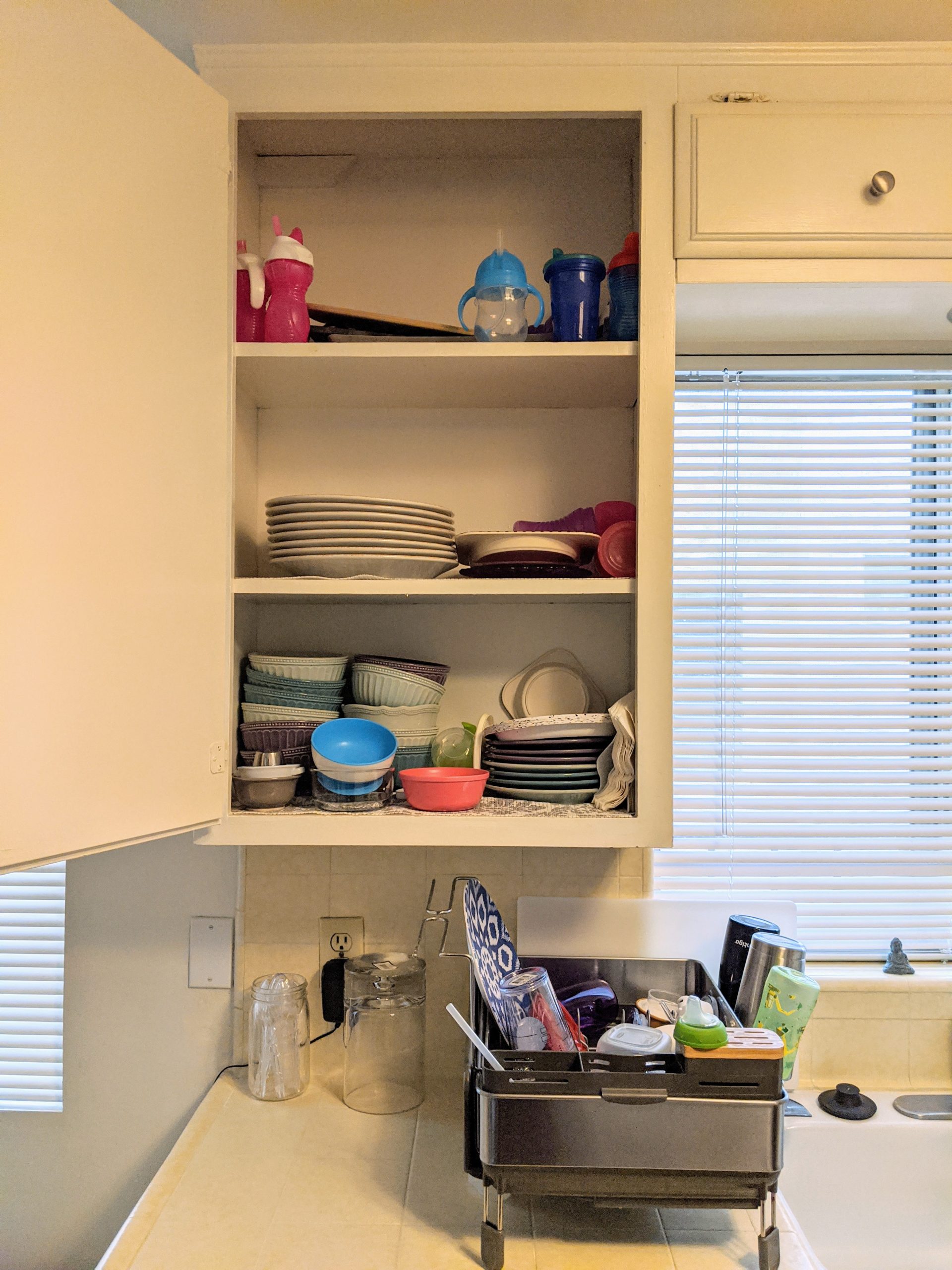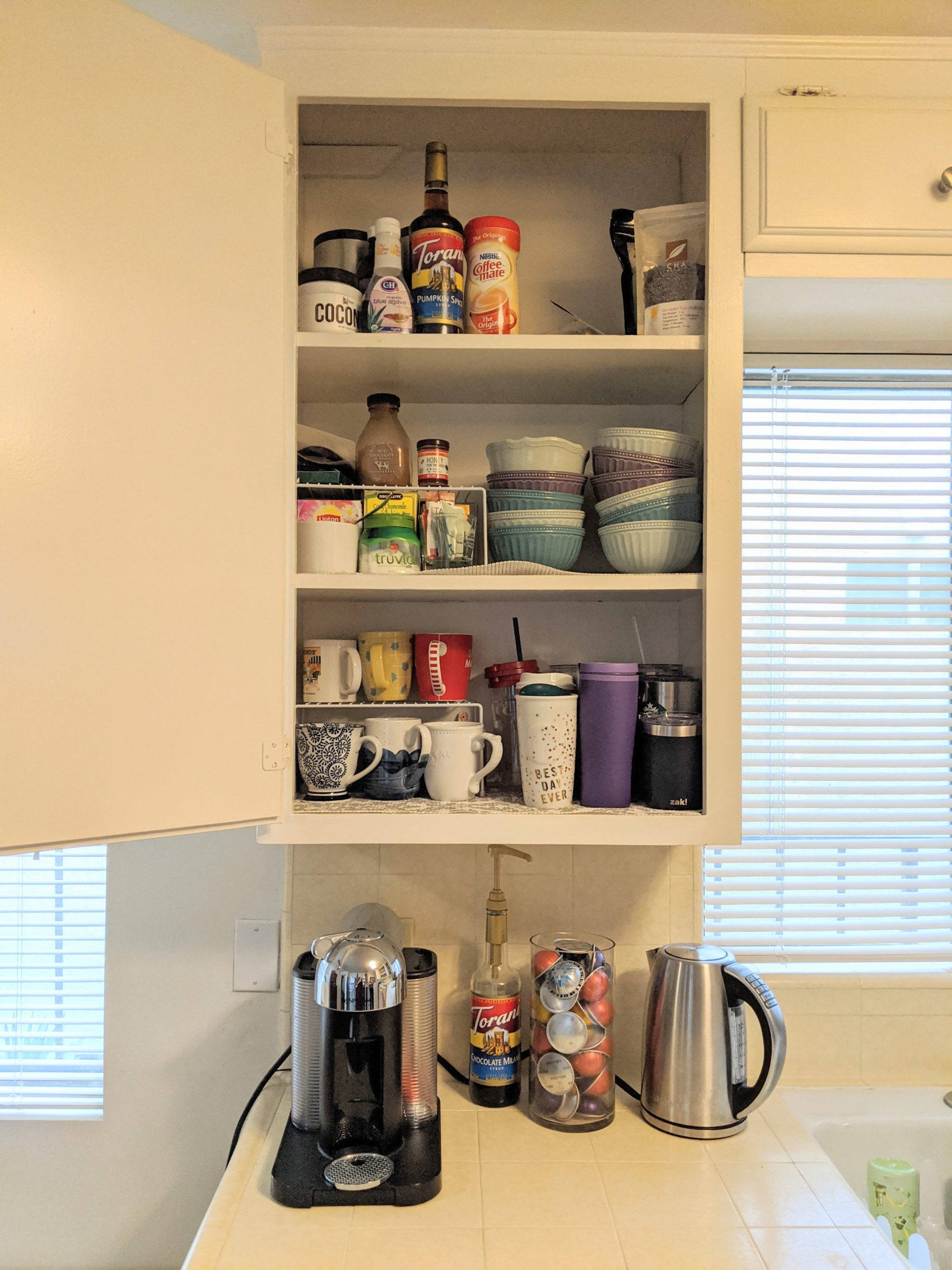 Put your dish rack in the sink
First we moved the dish rack off the counter into the sink. This cleared up the counter space to the left of the sink which we made into their coffee corner.
Create a coffee/tea corner
We put all mugs and hot cocoa, tea, even bowls for breakfast in that coffee corner. Having the ingredients right together with the mugs and hot water will streamline the morning routine. This is such an easy fix.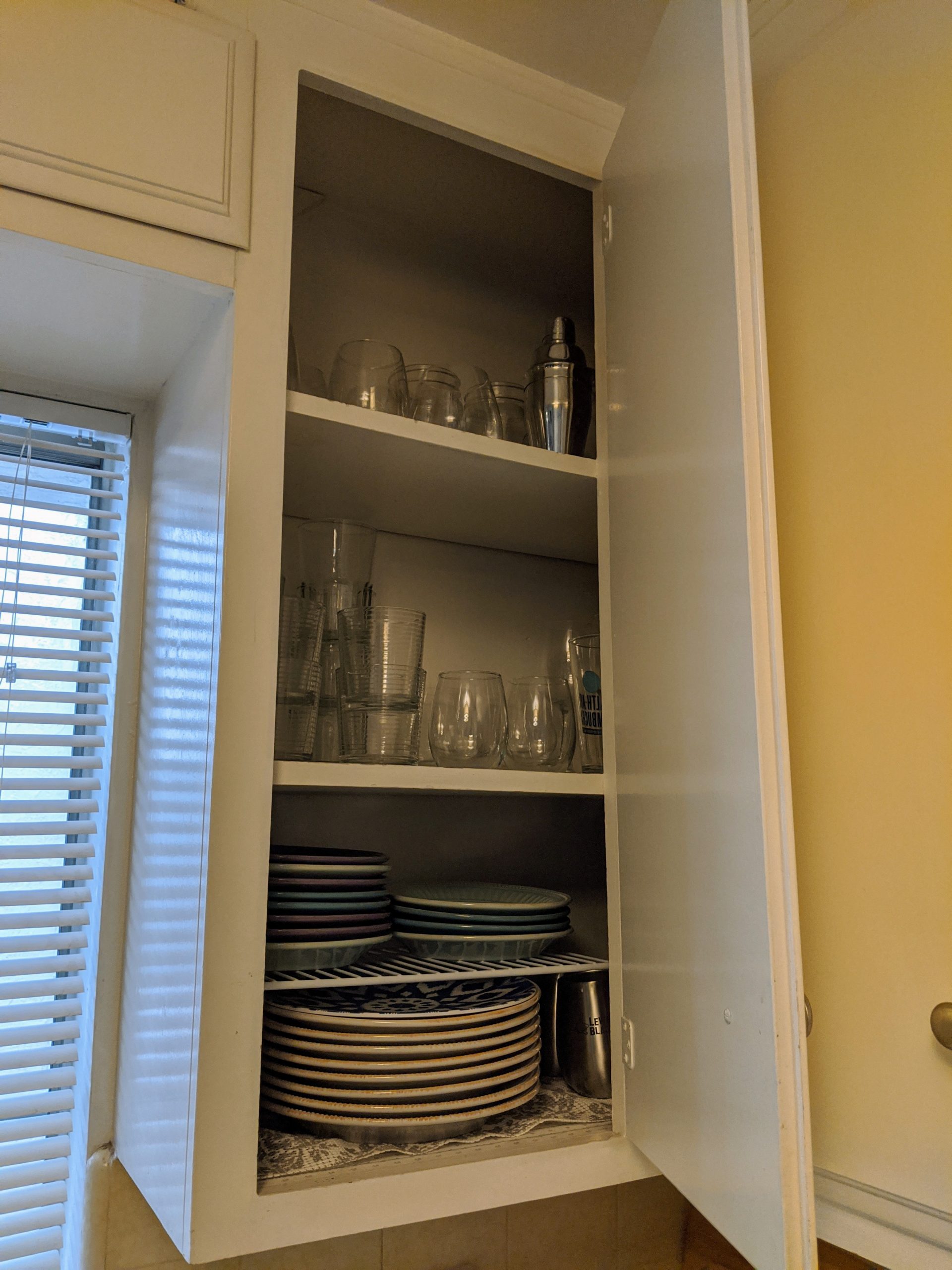 Everyday dishes stick together
We moved their everyday plates over to the right of the sink, to the same shelf as their everyday glasses. We used shelf helpers so that plates and glasses now fit all in one cabinet. This makes it so easy to set the table and also to put dishes away. The stuff you use the most is right at shoulder height, all together.
Clear the counters
I moved the knives and the cutting boards over to the long counter space and cleared everything else off. If you don't use something every single day, it doesn't belong on your counter. (Unless you have a large kitchen to display beautiful things.)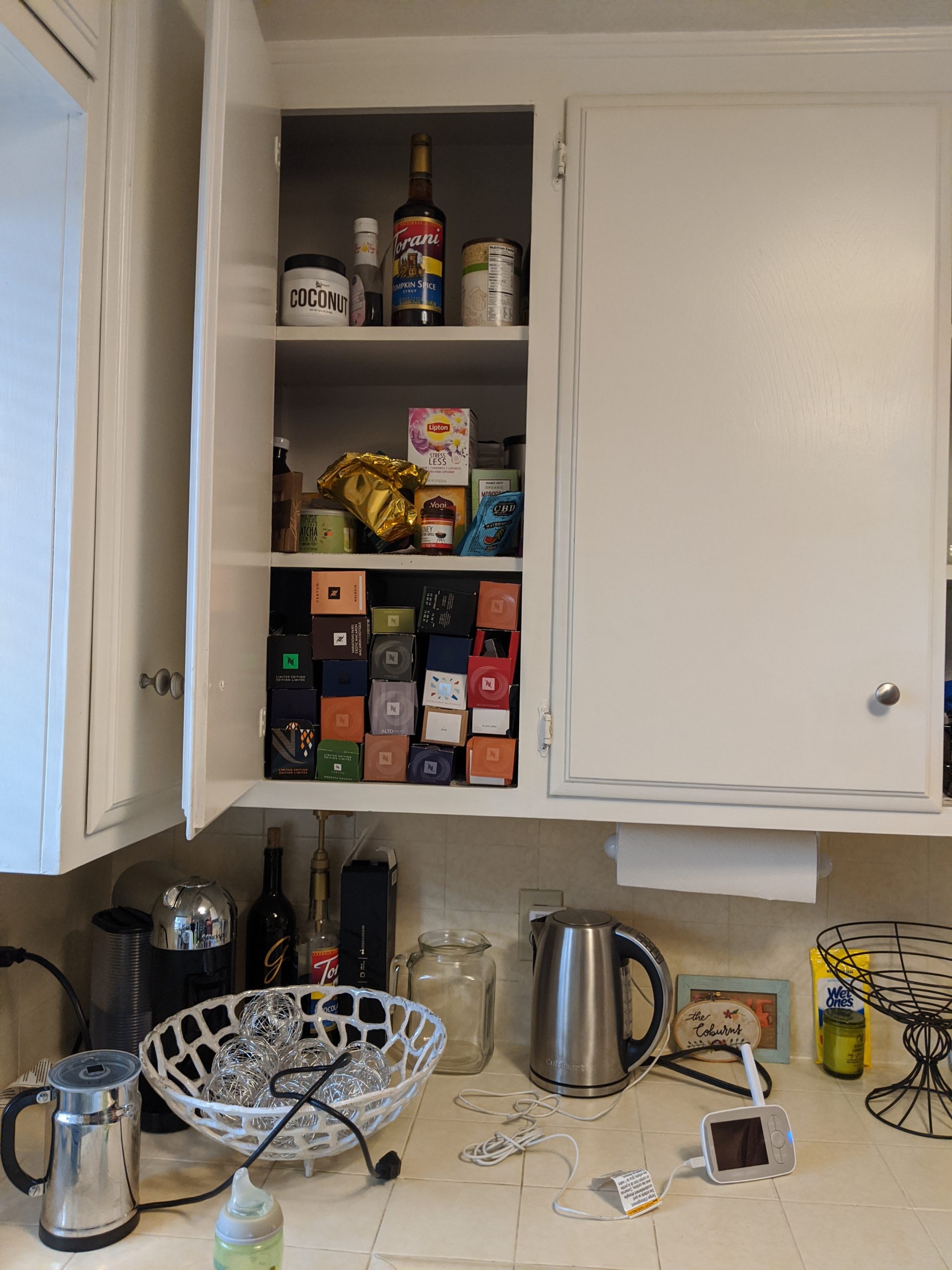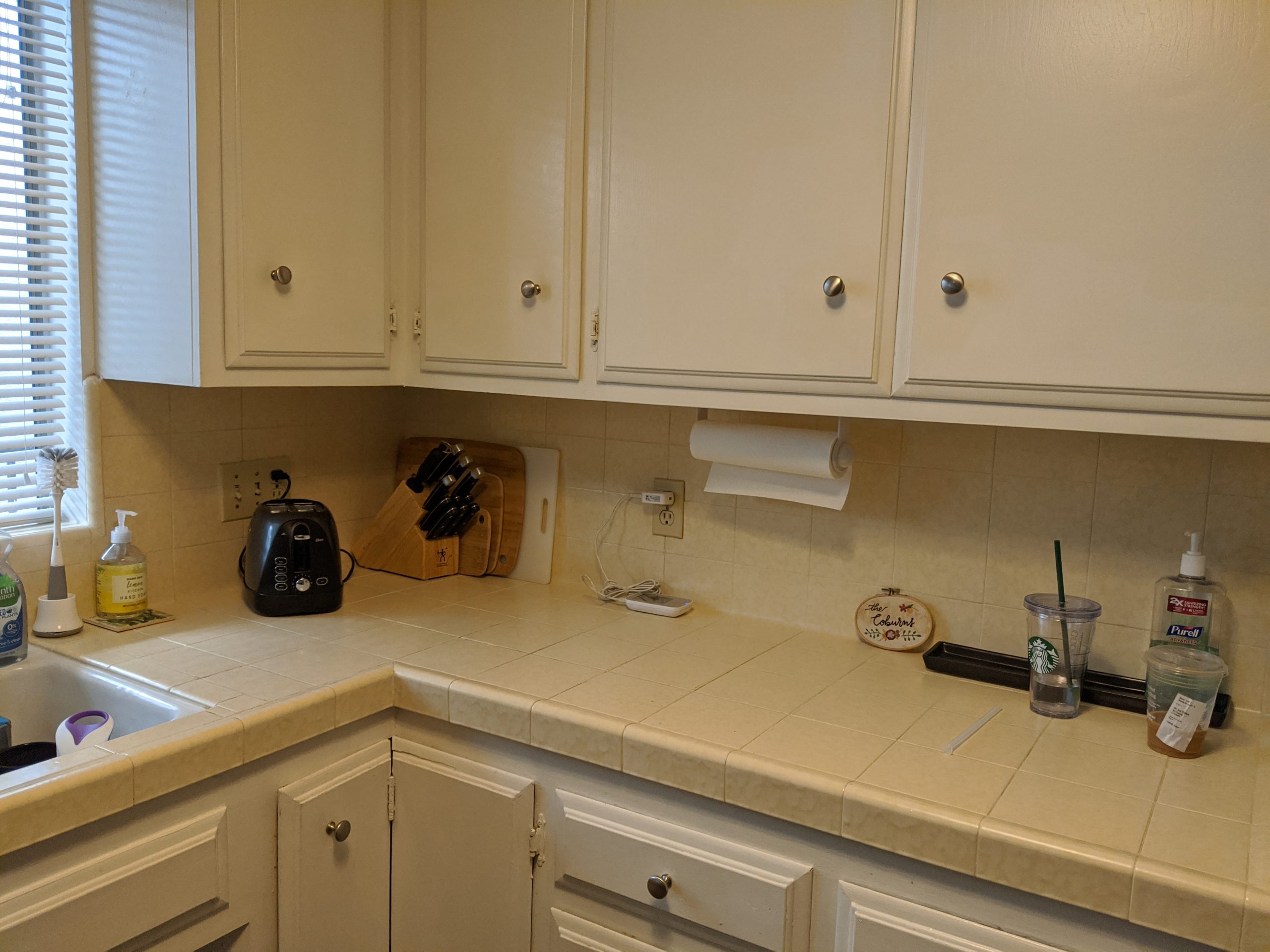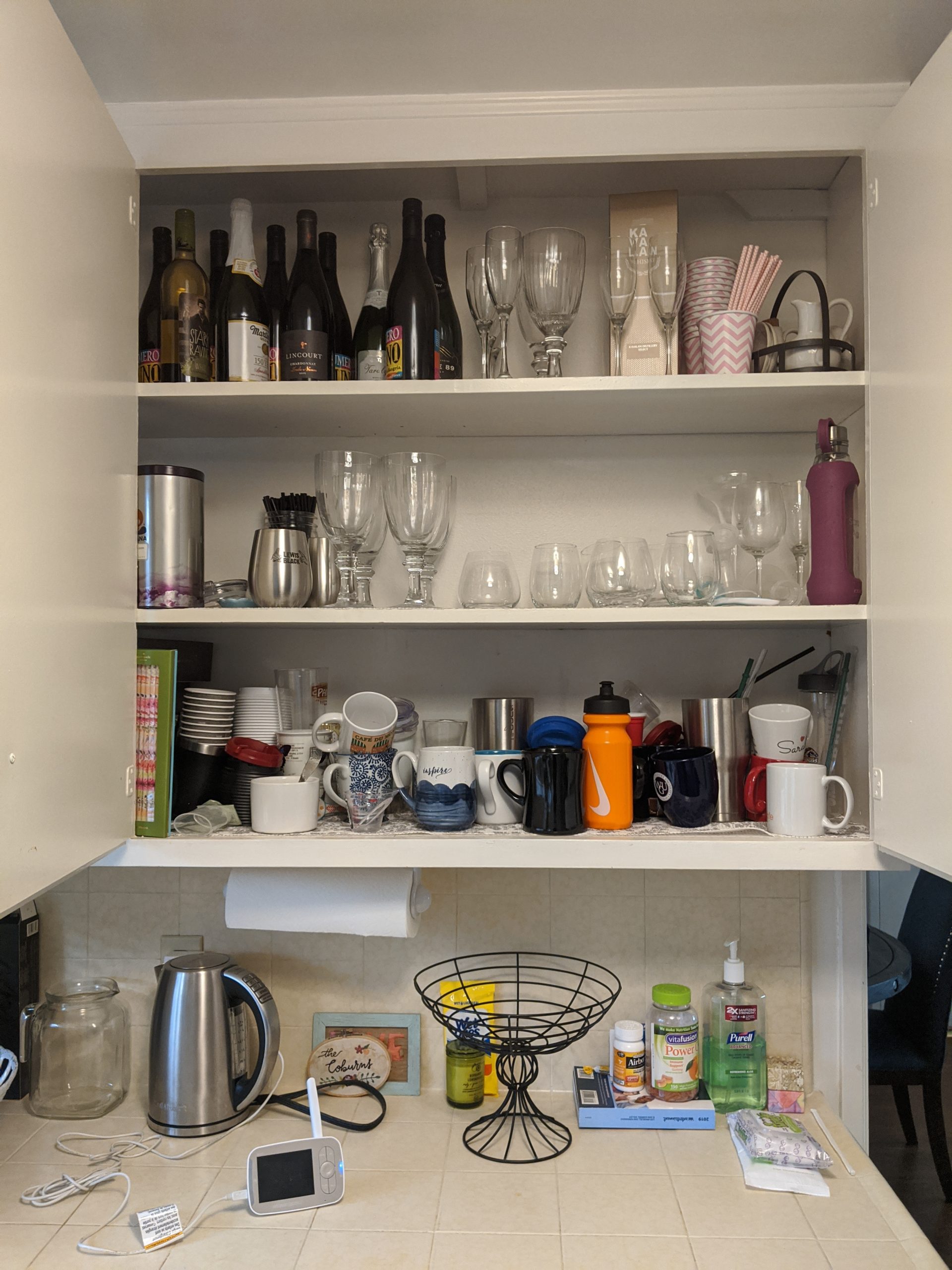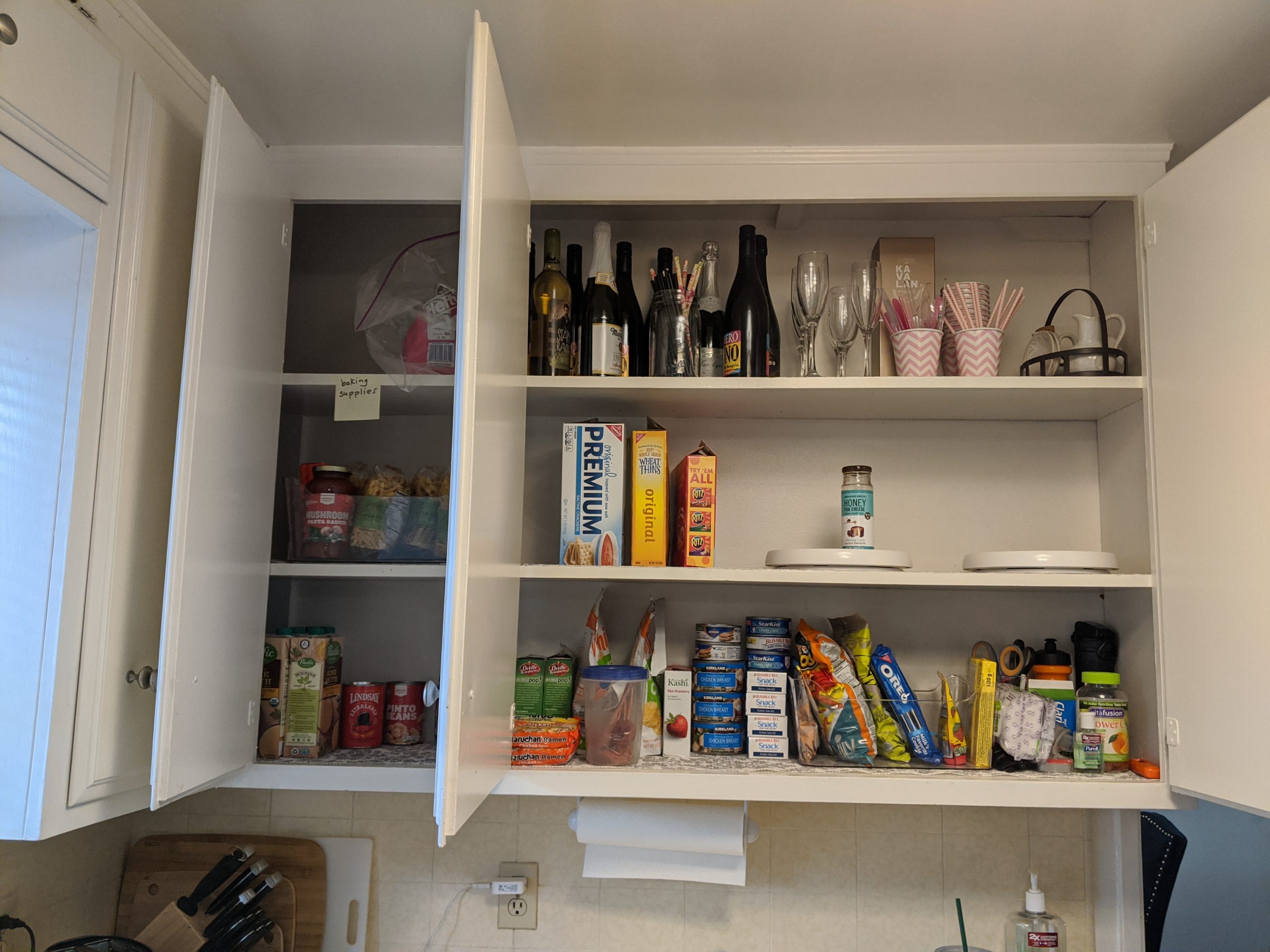 Make room for food stuff
The main cabinets in this kitchen were full of glasses and mugs. Sarah went through those, only keeping the ones they love and use daily. We kept extra glassware for parties on the top shelf and in the hall closet.
Just getting rid of extra glasses and mugs cleared out space in the cabinets to store food stuff.
Right now there are just snacks and packaged stuff. But we bought lazy susans and bins, ready to be loaded up with more ingredients as she starts cooking more!
Store pans with their lids
As for the pots and pans, she had two skinny cabinets on either side of the oven which were full of plastic and paper bags from the grocery store. We pulled all of the bags out. (I took them to recycle at the store.) Then there was space to stand up the pans on the left side and put the pots in the skinny cabinet on the right side. I like to store lids right with the pots. Prop them up to the side, or mount a holder on the cabinet door. Or just store the pots with lids right on them.
Use turn-tables for corner cabinets
She had a corner cabinet that was a huge black hole full of stuff. We took everything out and put in a big 18-in lazy susan in the corner so nothing will get lost back there again. Now that cabinet has plenty of space for grains, measuring cups, pyrex dishes and mixing bowls.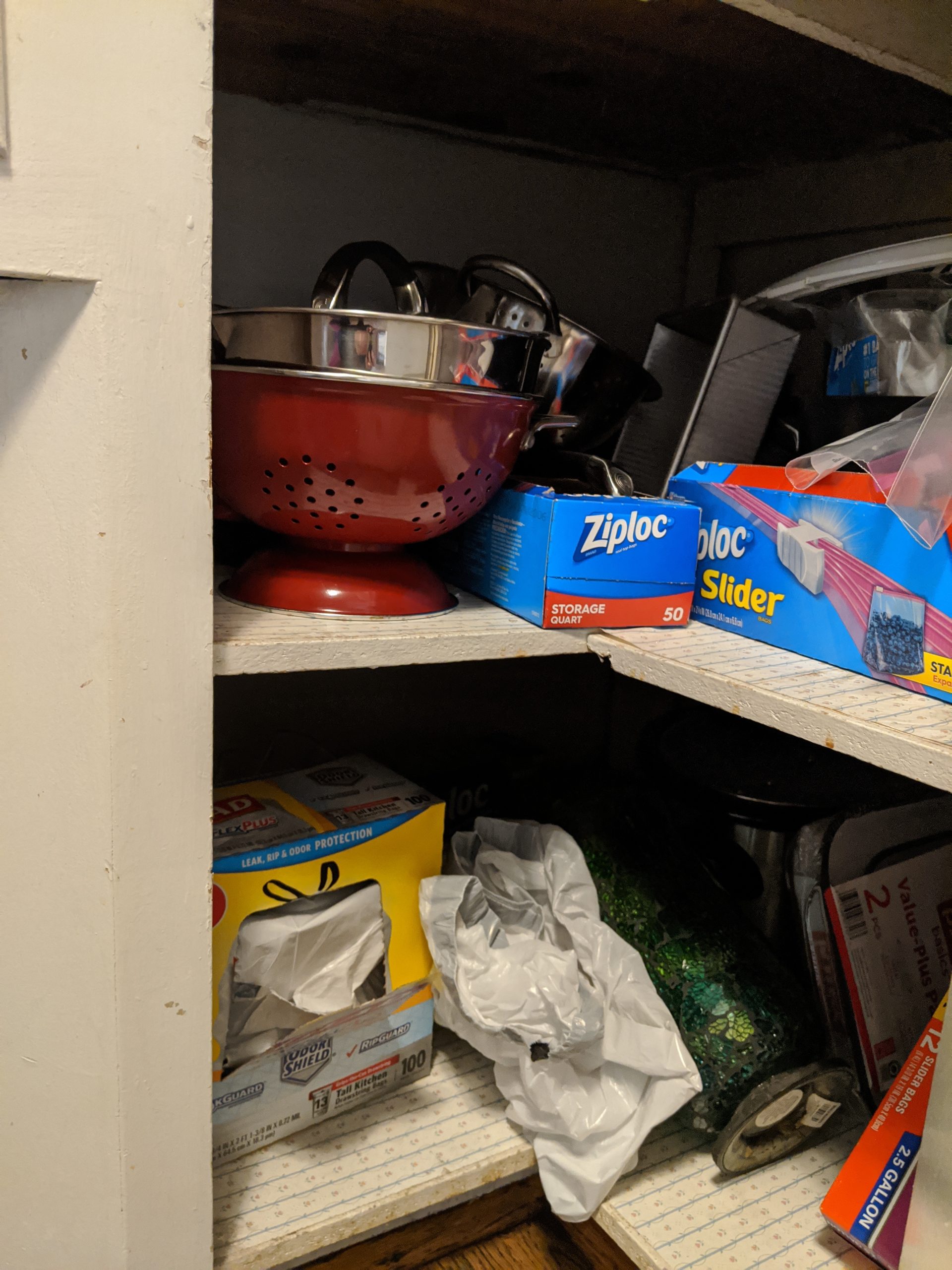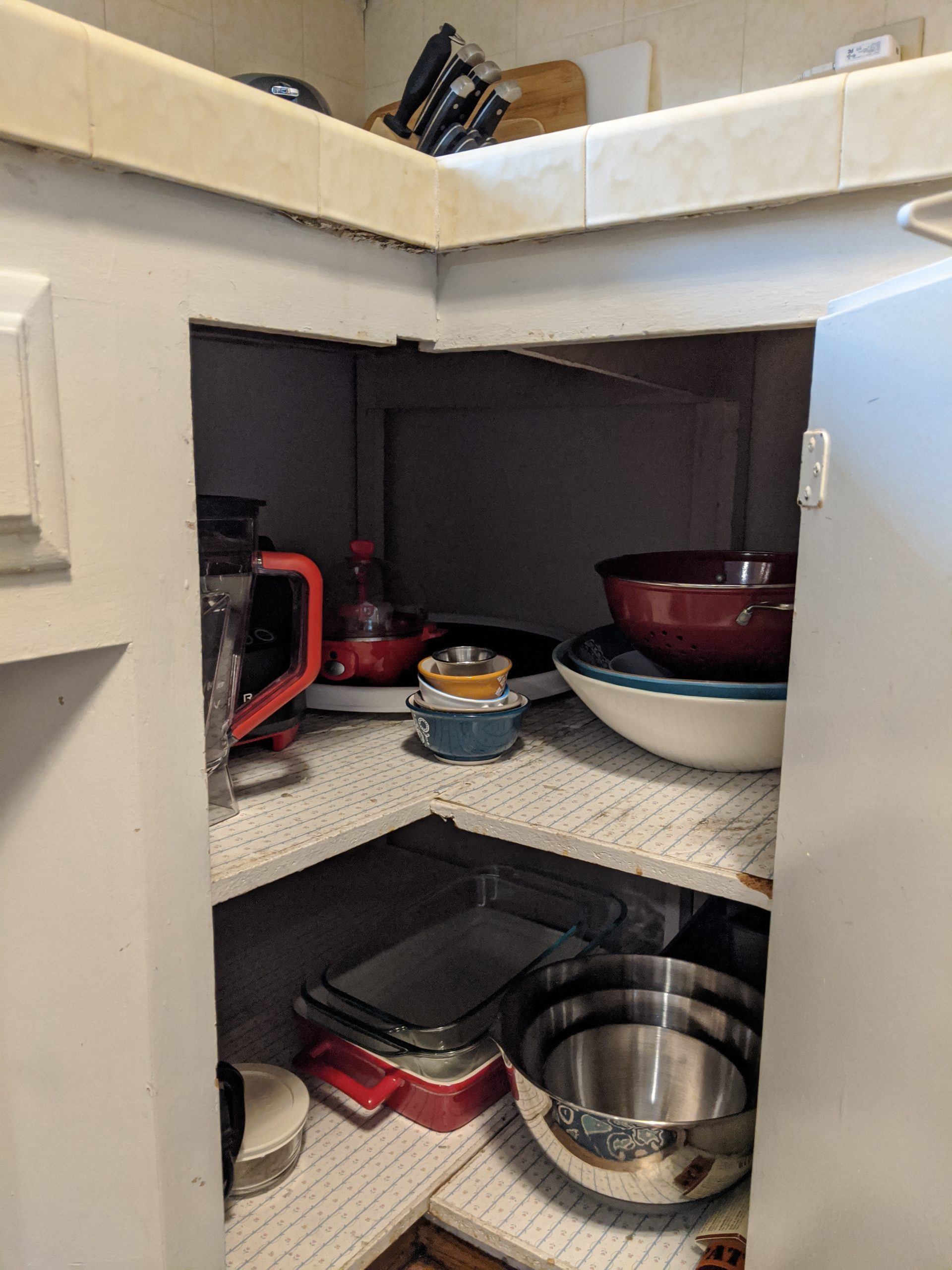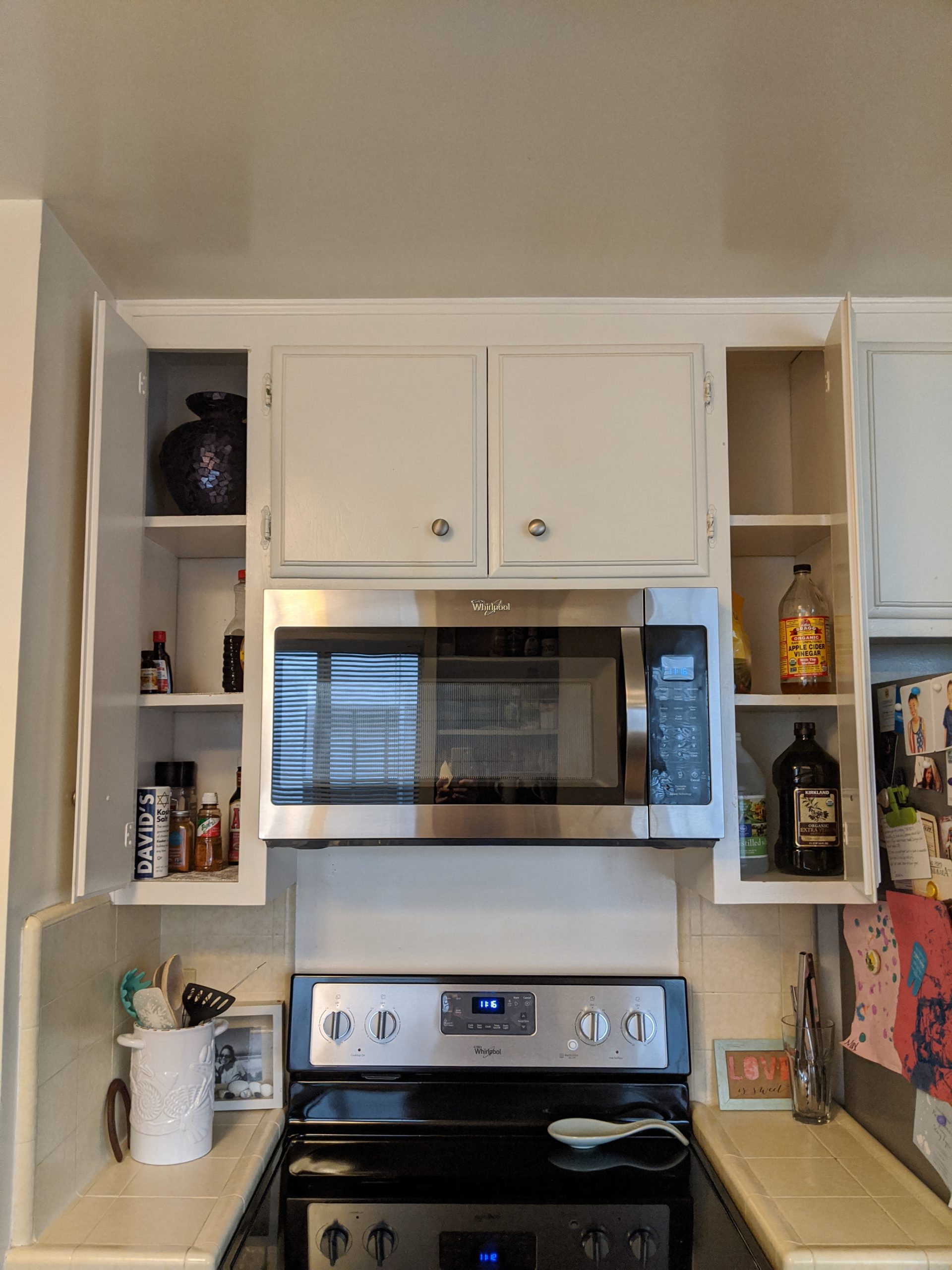 Cull your spices and sauces
Their skinny spice cabinets up above the stove just needed thinning out. We got rid of expired things and that's all we could do in this case. Their cabinets are too skinny to use any organizing tools.
Big results!
We did all of this in about two and a half hours and Sarah says the results are life-changing! Now she can find things and her husband will be able to find things, too.
I took all of the donations to a second-hand store. We threw away anything that was stained or broken. We got all of her reusable bags together so that she can store those in her car for shopping trips.
This project was so fun! I love a kitchen. I love organizing a kitchen because it can really change your whole life. When you feel comfortable in your kitchen and don't have to fight to find things or struggle to make space to prep your food, you're more likely to cook. Click To Tweet Your entire family will benefit from this quick organizing project.
So what are you going to try in your own kitchen?
Please tell me. And thanks for reading and watching. I appreciate it!
Sincerely,
Nonnahs