How to be a thank-you note hero: use Touchnote
My son just turned ten and for his birthday he got a lot of gifts from relatives in the mail. Now, we have been through many occasions together, my son and I — enough for me to know that him writing thank-you notes is not going to happen.
Years ago, I realized his aversion to handwriting was going to be problematic since our gift-giving relatives are all from the south and the oldest generation don't use the internet. So, writing a (sub-par) thank you email doesn't even work for them!
Speaking of southerners, here is a favorite joke:
Q: Why can't nice, southern women be prostitutes?

A: Too many thank-you notes!
Oh my stars and stripes, I love that joke! But I digress.
Even here in laid-back California, writing a thank-you note will make your world a better place. There are so many people to thank! And the more you thank them, the more they will keep doing nice things for you.
Things that absolutely require a thank-you call or a note in the mail:
-home-cooked meal (delivered, or hosted)
-any gift not opened in the presence of the giver
-a referral that will bring you prosperity
Back to the issue of children who hate writing thank-you notes OR calling to say thank you: I tried everything I could think of to help make this process easier for my kids and still let them know that it is the right thing to do.
Then, last year, my genius friend who just had a baby introduced me to Touchnote. She sent her thank-you-for-the-baby-gift notes using the Touchnote app. I received her postcard sent directly from her phone and was immediately hooked.
Once you download the free Touchnote app to your phone, you can start to create a card (or cards). You will have to enter the addresses of the recipients, BUT you only do this once per person. Once grandma's address is in there, you never enter it again! (Hallelujah they thought of that detail!)
For thank-you notes, I will take a photo of my son with the gift for which he is thankful, he writes a quick note on my phone about how great the gift is, I choose the right address and click SEND.
I never see the card. I never lick a stamp. I don't trim the photo to fit in the damn envelope. THOSE DAYS ARE OVER! Touchnote handles all of that.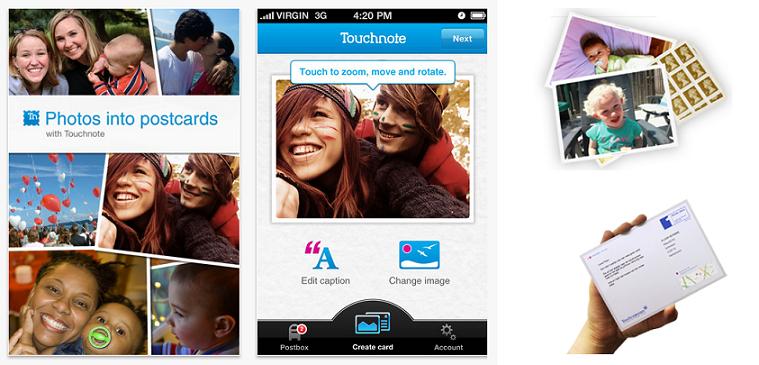 There are other great things about this app:
– you can add text and captions to the photos
– you can use the same photo for multiple cards
– use their cute templates if you don't have the perfect photo
– create postcards for around $2
– create fancier greeting cards with envelopes for around $4
The bigger package you buy up front, the less each card costs. As long as you remember to use the app, it is worth it! ok?
This February I sent all my girlfriends valentines using Touchnote. When I'm on vacation, I can send very personalized postcards. My mom sent me a postcard using an old photo she found the other day from my first day of first grade. It was like a facebook #TBT come to life in my mailbox! So many fun things. And you come out looking all organized and thoughtful.
Get organized already! Grab this app and let me know in the comments who you are going to mail your first postcard to.
PS- My street address is 622 Aldama Terrace Los Angeles 90042. (!)