Silly bathroom organization ideas
My house has a teeny, tiny bathroom with no storage. The bathroom in this video is like a fancy hotel with heated towel racks. But just because you don't have gold inlay tiles and a bidet, that doesn't mean you can't use my bathroom organization tips.

Store extra toilet paper on the plunger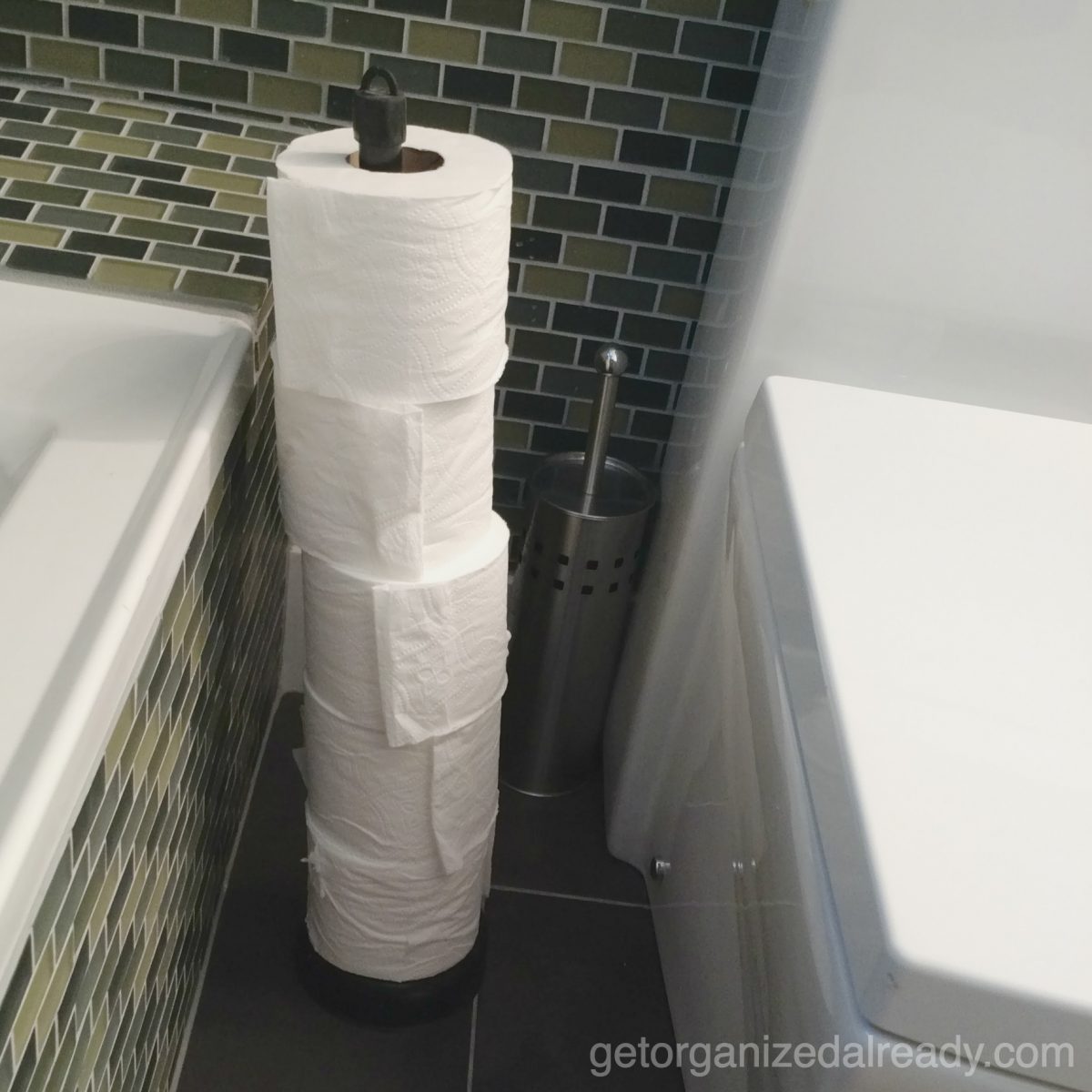 Easy. No need for explanation here.
If you don't have storage space in your bathroom, please do not buy toilet paper in bulk. Saving 3.4 cents per roll of TP doesn't warrant using your limited storage space for an item you could buy at ANY store on any corner of town.
Anyway, unless you are a special kind of forgetful, you won't run out of toilet paper just because you didn't buy 24 rolls at once.
Decant the shampoo for your kids
When kids are learning new skills, I am a believer that less critique is better. This is hard for a perfectionist-leaning soul like me. Still, it's true that most of our vast knowledge about stupid little things like how much shampoo to use we learned from experience. So, there's no need to micro-manage a kid's shower.
Decanting the shampoo and conditioner is one way to take the helicopter parenting out of shower time.
Keep disinfecting cleaner right by the potty
I first discovered this trick when our kids were potty training and so were ALL of their friends who came over regularly. We used more bathroom cleaner than we used toothpaste during those years!
In the home organizing spirit of store it where you use it, ten years later I still keep the spray bottle right on the floor by the toilet because I'd rather someone think I clean too often than have to ask me where the cleaner is when they need it. #embarrassing
PS-This is a solution for those of us with pedestal sinks. If you have a cabinet under bathroom sink and you don't mind people opening it to find cleaning spray, of course that's a more discreet place for your cleaning spray.
Thanks for watching and let me know what other organizing tips you have found or maybe organizing or cleaning problems for which you want solution.
Watch more video tips on our You Tube channel.